Portsmouth Jewish community members are invited to learn more about the United Jewish Federation of Tidewater (UJFT) and the Tidewater Jewish Foundation (TJF), located in Virginia Beach. Our organizations serve Southeastern Virginia Jewish volunteers, young adults, families, inter-faith couples, and more. Our site offers you resources ranging from Portsmouth Jewish synagogues and temples, to school and youth resources, to information on all the local Jewish organizations.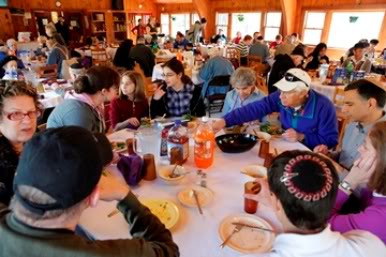 Visit our site often for the latest news and events related to Jewish community in Norfolk, Virginia Beach, Chesapeake, and all of Hampton Roads. For more information, check out our Shalom Tidewater page on the website - a one-stop site for all matters related to Judaism and living Jewishly.
Our Mission
The United Jewish Federation of Tidewater strengthens and perpetuates Jewish life. As a leader and facilitator of collective action, we develop human and financial resources to meet the evolving and vital issues of our world-wide community, partnering with local, national and global organizations. We allocate resources to assist Jewish agencies that provide healthcare, social services and education, and aid organizations that improve human relations and provide Jewish cultural programs. We care for those in need, rescue Jews in danger, enhance Jewish security and champion the State of Israel. By accepting responsibility for one another, we improve the world with acts of righteous giving and social justice.
Our Vision
The United Jewish Federation of Tidewater nurtures a vibrant, engaged, inclusive and caring Jewish community whose collective action is guided by our values.
In fulfilling our Mission and Vision we are guided by:
Our Values
Klal Yisrael: We are one People, responsible for one another.
Tzedakah: We have an obligation to share our resources with our fellow human beings.
Tikkun Olam: We are to actively participate in repairing the world.
Gemilut Chasadim: We have a responsibility to perform acts of loving kindness.
Torah: We are committed to lifelong Jewish learning.
Improving lives, inspiring Jewish journeys and fulfilling our values is accomplished through our commitment to:
Respecting the individual and different expressions of Judaism and Jewish life
Welcoming interfaith and other forms of non-traditional Jewish families
Promoting intergroup understanding, religious freedom and tolerance
Developing and nurturing superlative lay leaders and staff
Maintaining a standard of excellence and transparency in fulfilling our fiduciary responsibilities
Cultivating collaborative planning and collective action
Portsmouth Jewish community members continue to demonstrate their loyalty and passion to our Jeiwsh community and Israel. Learn more.