With a philanthropic fund, you can support many charities throughout the year by utilizing the Foundation to facilitate multiple gifts. A Donor-Advised Philanthropic Fund can provide some of the advantages of a private foundation while eliminating on-going legal and accounting costs, as well as excise taxes on investment income.
Your Gift:
May be established with cash, securities, real estate, partnerships (LLP), Limited Liability Corporations or other small business interests
Can be created with a minimum gift of $5,000
Allows you to recommend grants to organizations
Provides an immediate tax deduction
Enables continuity through generations of your family
Is less burdensome than operating a private foundation
Procedures for Operation of Philanthropic Funds
For more information, please contact Scott Kaplan, President and CEO, at skaplan@ujft.org.

B'NAI TZEDEK TEEN PHILANTHROPY PROGRAM
The Tidewater Jewish Foundation is very excited to debut an exciting new program just for teens! The B'nai Tzedek Teen Philanthropy Program encourages teens to become involved in tzedakah by establishing a fund for Jewish charitable giving. Opening a B'nai Tzedek fund gives your teen a chance to play a part in improving your community and the world. So how does this work?
Donate at least $250 to the Tidewater Jewish Foundation (TJF) in order to establish a fund in the name of your teen! TJF will match your gift with another $250 for a starting fund balance of $500! Your teen can learn about the needs of the Jewish community—locally, in Israel and around the world. Each year, fund holders, your teens, can grant 5% of their fund to a Jewish charity of their choice. In essence, you are empowering your kids to take ownership of their own philanthropy—a valuable lesson that we know pays off! Click below to learn more!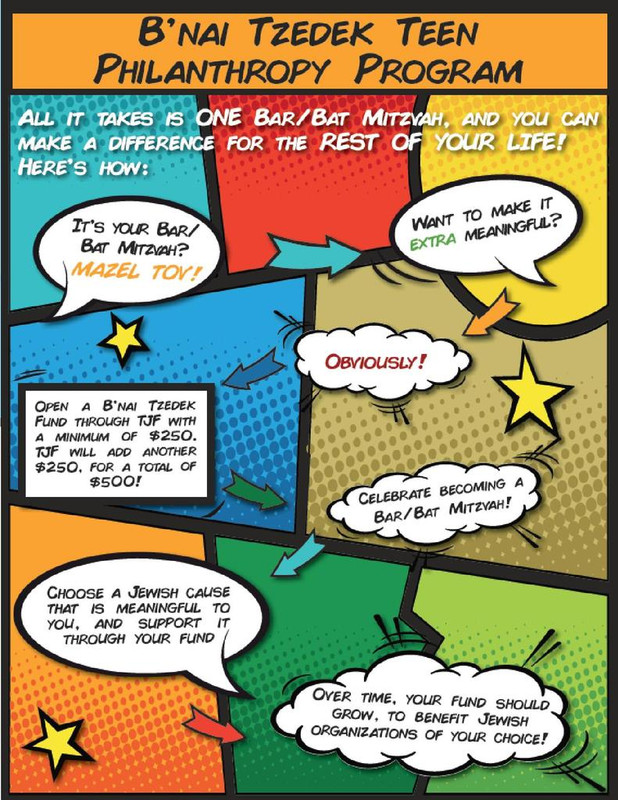 For information on how to enroll or with questions about the B'nai Tzedek Teen Philanthropy Program, please contact Barb Gelb, Development Associate and LIFE & LEGACY Coordinator, at bgelb@ujft.org.